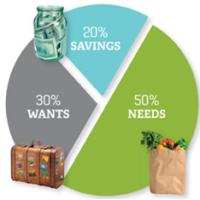 Everyone hates budgeting, but it's necessary if you want to track how you spend your income, what are the expenses you spend your income on, thereby, make necessary adjustment to increase your savings.
Recently, in a travel agency, Funke and Peace work on different roles but earn the same salary of N60,000. However, they were employed at the same time.
After a year, Peace complains that she is always broke before the end of the month. That the salary is too small, anytime she withdraw money from the ATM, it won't take long before it finish.
Peace got frustrated and confronted Funke and asked why she is not broke and how is she saving from the same amount they both earn and at the same time looks good because Peace knows that there is no other source of income apart from the salary.
However, the pressure from peace was too much, then, Funke opened up to Peace about her 3 strategy of budget planning.
Make it simple. Make your budget plan simple for easy monitoring. All you need to do is to classify them into:
50 percent (or less) for needs. These are the things you must spend on in order to live in the modern world, such as housing, utilities, healthcare, transportation, insurance and basic groceries and clothing.
20 percent (or more) for savings. This includes retirement accounts, emergency savings and other investments. For the purposes of this budget, debt repayment also counts as savings.
30 percent for wants. Essentially, this is everything else: cell phones, entertainment, haircuts, pet supplies, travel and food or clothing that's beyond the basics.
Unavoidable struggle. A budget is simply a target. Your spending likely won't be perfect the first month (or the second, or the third, or the fourth). If you can't get your money into perfect balance, get it as close as you can. Make adjustments as needed.
Make plans based your current income. Don't base your budget on wishful thinking. Sure, you still may get that pay raise or bonus, but wait until it's actually in hand before accounting for it.
When she told Peace these 3 ways, she felt liberated.
Those are 3 easy ways to finding a spending plan that works for you.
Add your comment and suggestion below.
See you soon………………
Tayo Stephen ACA