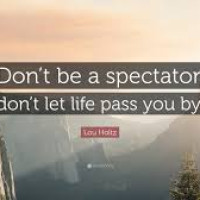 Early in my career, I realized taking action is very important and also one of my most important assets.
From my teaching experience, I learned that if you don't write an exam, you cannot pass. Even when you write your professional exam without using the right material, you might still fail the exam but you are far better than those who are waiting for the right season to plant and harvest; those who are sitting on the fence without taking any action to achieve their professional goals. Note that, you only fail when you stop trying.
I have heard some of our student's testimonies that they have failed a course like 3 times but they never gave up until they came across our comprehensive video lectures that helped them passed their professional exam.
If you are waiting for the right time to write your exams then, you are spectating because nobody knows when the right time will come. In fact, there is no good time to write an exam.  This is no different from the finals of Football, Tennis, Golf, Formula 1, Athletics etc. However, there are three set of people that makes any sport interesting and they are winners, losers, and spectators.
Click here now to join our FREE support forum that have helped thousands of students to pass their ICAN exam
The Winners: These are a people who become successful after rigorous training, learning from failures, admitting their weaknesses and improve on them. They blame neither the referee nor the rules of the game for their failures because they focus fully on themselves (getting the right coach, use the best trainers, buy one of the best players, seek help when it is needed)
Losers: These are potential winners who just need to keep on trying. However, they need to get the right equipment; they need to be tough and thorough on themselves while doing training. In fact, they don't need to wait until few days to the match before they start training. This category needs to be mentored. However, they gain both in experience and monetarily.
Spectators: This category completes the circle. It is necessarily required for both winners and losers to fulfill their destiny. Spectator analyzes the match, use all possible logic to justify why a team should win or lose, The cheer both the winner and loser who always bag away with the gains of the match.
Click here now to join our FREE support forum that have helped thousands of students to pass their ICAN exam
Be Sincere, which category do you really belong to in your studies?
Whether you are a winner, you still need the best coach to keep you winning, as a loser, you need the best coach who has guided many winners to become successful to help you win and keep winning. However, if you are a spectator, then you are still sitting on the fence without taking any action even though the life clock is ticking and the most unfortunate thing is that you can remain a spectator forever. You know what I mean.
One proven way to pass your professional examination (ICAN, ACCA, CITN, CIS, ATS, CIPM) with ease is to get the right coach; right material and equipment that will help you pass irrespective of your status whether a winner or loser. Don't worry we have got your back covered with our Comprehensive E-Class Video Lectures that will show you lots of different ways to do this. It's in line with the current syllabus, contains comprehensive questions & answers, framework, examiners tactics that will help you pass your exam. The beauty of it is that you can study at your own convenient time to suit your busy schedule.
Order your E-Class Video Lectures today if you want to stand out from the rest of the clutter.
Don't be a Spectator…Order Now by calling 07038174484, 09076786154, 08023428420 or send a mail to info@starrygoldacademy.com
To your success,
Adiotu Emmanuel
P.S. Pick up Comprehensive E-Class Video Lectures within the next 3 day and you'll also get a special bonus: Microsoft Powerpoint. It's the perfect complimentary product that will help you have a broader understanding about presentation. Be sure to ACT NOW – Don't be a Spectator…call 08023428420,07038174484,08123189141
Click here now to join our FREE support forum that have helped thousands of students to pass their ICAN exam