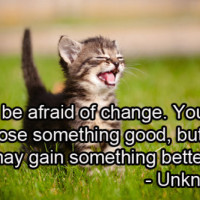 "Everyone thinks of changing the world, but no
one thinks of changing himself."
Last month, one of my neighbor who has a wife and
3 kids lost his job, I felt sorry for him because his house rent will expire next month, and his children's school fees is due, he also has to deal with Nepa bill, Lawma bills, infact, he can't even afford three-square mill anymore (survival mode) . Hence, he said they sacked 55 people in his company and slashed the salary of those that were retained by 40% because the company whose name im not permitted to mention here couldn't keep up with the office expenses, salary payment, etc due to our current economy situation..
I wish he had listened to my advice last year I remember how I tried my best to persuade him to work on being a better person by learning new skills, become an expert in his field but he refused because he thought that there will always be time and opportunity to work on himself, hence, he fully depended only on his monthly salary. Afterall, change is the only constant thing in life and the best preparation for tomorrow is doing your best today.
The good news is that our current economic reality is a temporary one, Infact, economics experts have been predicting that Nigeria will be out of recession in the 3rd quarter of the year. So it will be wise that you start planning on how you can maximize future opportunities. So why worry? Because hurting yourself will not solve the problem.
So it will be wise that you take deliberate action now to work on yourself to maximize future opportunities which I am already doing personally.
Below are 3 proven techniques that will help you to cope and plan ahead to maximize future opportunities.
#1. Don't worry yourself: Rather than discussing Nigeria's problem
all the time with friends or colleague, why not focus on the things that
are within your control since discussing Nigeria issue from now till 3,000AD,
if you are still alive won't change anything. However, think of the worst
thing that will ever happen then prepare your mind.
#2. Plan for the worst: After knowing the worst thing that will ever happen
then think of how you can cope and prevent it. For instance, you need to
budget and spend below your means since the cost of purchasing commodities
(rice, beans, semo, garri) are high.
#3. Work on yourself: Rather than complaining that Nigeria is not good why
not work on yourself daily? you never can tell the opportunity that will open
up for you tomorrow. However, you need to be ready for the opportunity.
After all, opportunity and chance are out of our control, what we can
control is our preparation.
I am glad that our personal development videos that my senior colleague (Tayo Stephen) have been talking about (wow package) has helped a lot of people to maximize opportunities. I got the below feedback from someone who bought the personal development videos months ago.
I got your personal development videos on the 15th of February to be precise and I mastered all the accounting packages. I am happy to tell you that I now set up accounting for small business owners and I am currently getting a good pay on a monthly basis from each client.
To your life success,
Yinusa Omobolanle
P.S. I hope you have gotten your own copy of the personal development videos?, You know, the initial price is 160000, but we ran a promo of 75% off the price (40000). Actually, the promo has ended but we have pleaded with the management on your behalf to adjust the system for you to get the personal development videos between now and Thursday midnight for 42000 only. Starting from Friday, the videos will be at its initial price of 160000.
Act NOW to get your own copy by calling 09076786154, 
08023428420, 08123189141, 07038174484,. Remember 
this last offer will expire Thursday mid night.