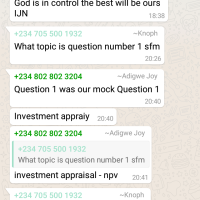 Hello Professional Students,
This is Tayo Stephen, MD and CEO of Starry Gold Academy and helping students to pass their ICAN exam is our major goal.
Most of our new students are always skeptical that how can the video lecture alone help them pass their exam. I am glad that I am not answering this question alone but with some of our student's feedback in our free support forum after ICAN May 2017 diet exam.
Question 1 was our mock Questions 1 – SFM forum.
Hello StarryGold Team, I must commend you for your part, WELL-PLAYED. Thank you, well-done and God bless. FR Forum. 
Almost all these areas predicted came out. – AA forum.
Thank you Starry Gold for everything. It really helped a lot. -PSAF Forum
Thank you Starrygold for your continual support and sense of direction! – MGE Forum
I can boldly tell you that you don't need any textbook if you have the video. Tax is one of the strength of starrygold. (my personal opion). Follow the video carefully and you are fully prepared for the ICAN antics.. – Taxation Forum.
Lots of thanks to starry gold for their support for the preparation of just concluded May diet. God bless. – PSAF Forum.
The questions were fair. Students need adequate preparation.-PM Forum.
Humanly speaking, tough but I believe we shall breeze through the paper. – PM Forum.
I must say a big thank u to Starry Gold. Long live u. FR forum
Thank God for the MGE. Pray all is well. MGE Forum
Thank you for your effort admin. FR forum.
The case study of yesterday was a fair one. Case Study Forum.
My dearest brother Jesus save it was good I thank God and yours but the Audit no 1 throw me of balanced with all, Glory belong to God. Thanks for your concern. Taxation Forum
Wow starrygold a big tnx for d video lectures on online class it really helped me for d exam.  MGE Forum.
Thanks a lot @starry Gold. Your centre shall continue to soar. And I pray God will favour all candidates, we shall be inducted come November 2017, ACA shall be part of our title as from July 2017 – AAA Forum.
Click here to view  the screen shot of the feed backs.
I am feeling on top of the world after seeing all this testimony. Furthermore, we are sorry if we didn't post your comment because it will be too long here. However, we will compile other students comment and upload it on our feedback page.
To your success,
Tayo Stephen ACA.
PS: The fundamental key to success is definitely early preparation. It gives you enough time to cover the bases for the exam properly and boosts your confidence before your exam. Hence, it is highly recommended that you get your material (if you have not bought your E-Class Video material, Please do that now either by calling 08023428420,07038174484 or send an email to info@starrygoldacademy.com especially if you didn't write last diet exam due to circumstances either within or outside your control.
You can never go wrong when you start preparation  early and "don't forget that doing the same thing and expecting  a different result is the highest form of insanity"… Jack Canfield