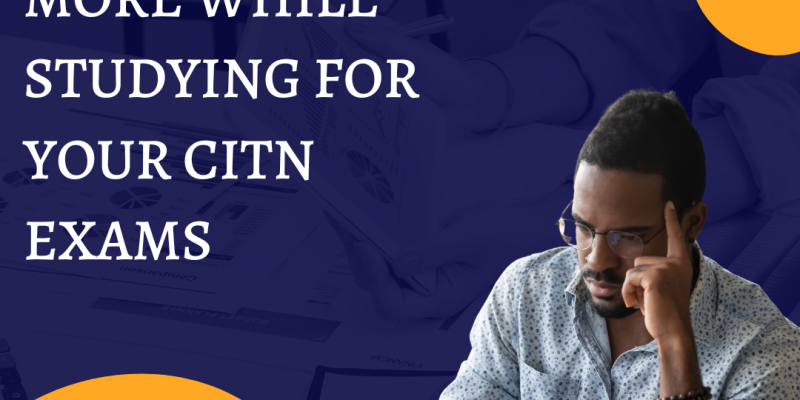 If you do not assimilate after
studying a material, you are not
different from that person who didn't study at all.
But because you need to write CITN exam,
you might result to cramming which is
never the best way to assimilate.
You may say but that is how you have
been passing your exam.
Well, you may think cramming works for
you now but it has a devastating
effect, especially when you least expected.
I remember years back, after cramming
for an exam,
when I saw the way the questions were
'twisted' in the exam hall, my brain just went blank.
So, let me show you the best way to assimilate more;
• SCAN THE MATERIAL FOR KEYWORDS BEFORE STUDYING
Before you begin to study, scan
the text for keywords.
Keywords are words that appear in a text or
written materials frequently.
You can check CITN past question to
find keywords. Scanning for keywords would
help you understand the material when you
beg into read it properly.
In the case where you don't understand the
keywords based on the information provided in the text,
make use of the dictionary or the internet to check its meaning.
Understanding keywords help to better digest the
material and retain the information since you are familiar
with the essential words in the text.
For each of the CITN courses, list out the keys words
and get familiar with them all.
By the time you start studying intensively,
you will start coming across these keys words and
they will be automatically registered in your sub-consciousness.
You will notice how you can easily remember
those keywords when you start answering CITN past questions.
Don't doubt this method of assimilation, why not give it a try today?
• TEACH YOURSELF BY READING THE MATERIAL OUT
Reading a material out helps you calm down
and pay attention to each word in the text.
I particularly use this method during
my undergraduate days.
Reading out the text makes it engaging. Sometimes,
I teach myself by standing in front of the mirror
or being alone in a room.
Don't say this sounds like a secondary student's method,
if it's working for others, why not give it a try now.
I will stop here for now and continue in my next article.
To get our CITN Comprehensive Video lectures,
Call Starry Gold Academy on; 08023428420, 07086810335, OR 08123189141
Or
chat with admin on Telegram to get it NOW https://t.me/starrygoldacademy
Our Offline Video Tutorials:
ICAN, ATS, CITN, CIS, IFRS, JAMB, WAEC, GCE, NECO, Junior WAEC, SAGE 50, SAGE Evolution, Excel (Basic & Advance), QuickBooks, and others.
www.starrygoldacademy.com
Share this