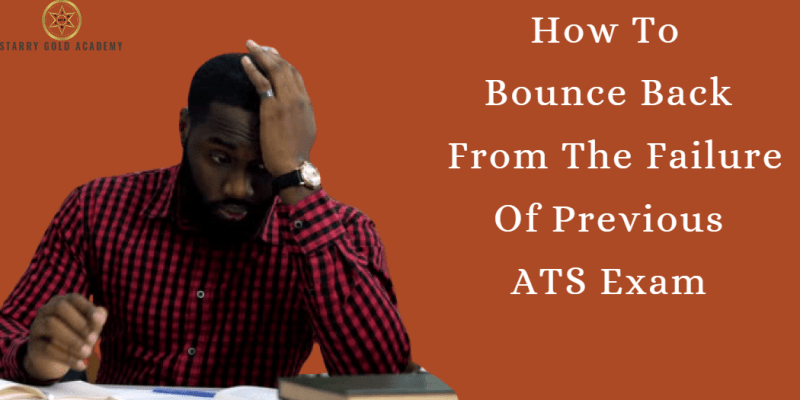 If you failed any paper or all papers in the last ATS exam, that does not make you a failure.
It is important to acknowledge the failure but not to dwell on the failure, or to take it personally.
When all you think about is the failure or you begin to associate yourself as a failure because you failed one paper or all the papers you wrote, it brings down your mood.
"Failures are finger posts on the road to achievement."—C. S. Lewis
See failure as a temporary thing instead of something permanent, this is an essential key to an optimistic attitude and to keep going forward in life.
For you to bounce back from past ATS exam failure, do the following,
ADMIT YOUR FAILURE AND MOVE ON:
It's important to acknowledge failure in your life when it happens,
this will help you to identify what it is you need to focus and improve on so that you can approach the situation in a new way for success in the next diet ATS exam.
Don't let the past failure deny you of the success ahead, move on by preparing for the next diet ATS exams.
P.S: It is only when we refuse to improve on what we did in the past or we refuse to try again that we become a failure.
Need ATS Video lectures, Past Questions and 30 Days ATS Exam Success Blueprint
(A guide to help you finish ATS Syllabus within 30 days)?
Call Starry Gold Academy on 07086810335, 08023428420
Or click here to chat with admin on Telegram https://t.me/starrygoldacademy
You can join our FREE ATS Telegram classes, click here to join,
http://starrygoldacademy.com/members/ATS-telegram-class/
Starry Gold Academy: No 1 Tuition center with the highest exam pass rate at one sitting for professional exams in Nigeria.
Our Offline Video Tutorials:
ICAN, ATS, CITN, CIS, IFRS, JAMB, WAEC, GCE, NECO, Junior WAEC, SAGE 50, SAGE Evolution, Excel (Basic & Advance), QuickBooks, and others.
www.starrygoldacademy.com
Share this