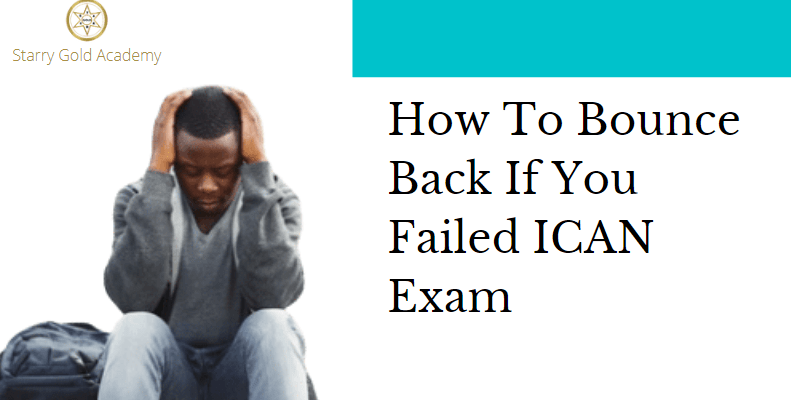 If you failed any paper or all papers in the last ICAN diet exam, that does not make you a failure.
It is important to acknowledge the failure but don't dwell on the failure,
or to take it personally.
When you begin to associate yourself with failure,
 you may fall into the trap of assuming that things will never get better or
that ICAN exam is not for you.
Unfortunately, this mindset is the very thing that keeps so many ICAN students stuck and
 they might find it difficult to pass the next and subsequent ICAN diet exams.
Some students even quit or abandon their dream of becoming a Chartered Accountant because of such a mindset.
How you approach setbacks, in large part, determines your level of success in your next ICAN exam.
This is why it's so important to possess a resilient mindset and write the next diet exam.
"Success is the result of perfection, hard work, learning from failure, loyalty, and persistence." – Colin Powell.
Don't let the past failure deny you of the success ahead,
 move on by starting your preparation for the next diet ICAN exams NOW.
P.S: It is only when we refuse to improve on what we did in the past or we refuse to try again that we become a failure.
Want to start preparing for this diet ICAN exam NOW?
Request for our ICAN Video lectures, Past Questions and 30 Days ICAN Exam Success Blueprint (A guide to help you finish ICAN Syllabus within 30 days)
Call Starry Gold Academy on 07086810335, 08023428420,08123189141
Or click here to chat with admin on Telegram https://t.me/starrygoldacademy
You can join our FREE ICAN Telegram classes, click here to join,
http://starrygoldacademy.com/members/ican-telegram-class/
Starry Gold Academy
 No 1 Tuition center with the highest exam pass rate at one sitting for professional exams in Nigeria.
Our Offline Video Tutorials:
ICAN, ATS, CITN, CIS, IFRS, JAMB, WAEC, GCE, NECO, Junior WAEC, SAGE 50, SAGE Evolution, Excel (Basic & Advance), QuickBooks, and others.
www.starrygoldacademy.com
Share this