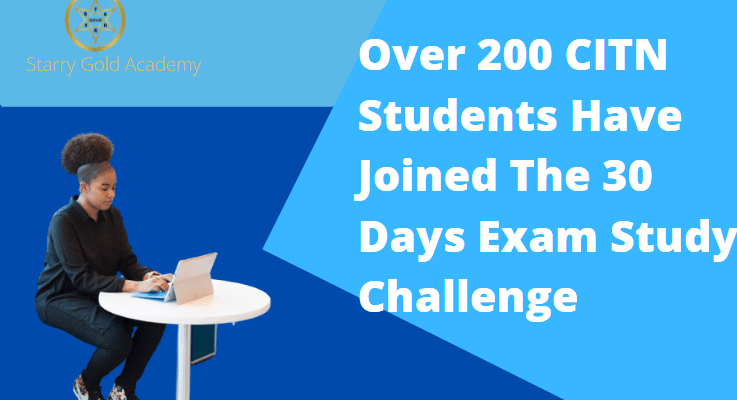 Don't be left out of this deliberate intention to pass CITN exam this diet,
join over 200 CITN students who have determined to pass this diet CITN exam
by participating in the 30 Days Exam Study Challenge,
which also includes, solving a lot of CITN past questions.
Over 5 days have gone by now but you can still join.
If you want to share your CITN exam success testimonies this diet,
just like these students did the last diet, see their testimonies here https://starrygoldacademy.com/citn-testimonies/ ,
P.S: Only DELIBERATE ACTION will lead to SUCCESS.
Ready to join the 30 Days Exam Study Challenge NOW
Click here to join https://bit.ly/30DaysStudyChallenge
Click here to chat with admin on Telegram NOW https://t.me/starrygoldacademy
Or
Call Starry Gold Academy on; 08023428420, 07086810335
Starry Gold Academy: No 1 Tuition center with the highest exam pass rate at one sitting for professional exams in Nigeria.
Our Offline Video Tutorials:
ICAN, ATS, CITN, CIS, IFRS, JAMB, WAEC, GCE, NECO, Junior WAEC, SAGE 50, SAGE Evolution, Excel (Basic & Advance), QuickBooks, and others.
www.starrygoldacademy.com
Share this