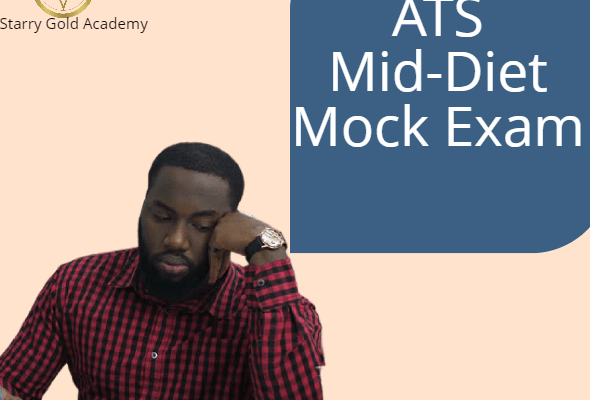 Trust your preparation for the March 2022 exams is going on well.
Kindly be informed that our Telegram class Mid Mock Exams will be Coming up by Next week…
Until you test yourself, you can't really know if you are well prepared or not.
Date: Monday; 17th January , 2022 to Sunday; 23rd January 2022
Venue: Our Various Telegram Classes Forums
Time: Our Normal Lecture Time for Each Course.
Kindly Visit the Member's Area from Sunday; 16th January, 2022 to Access and Download the Mid Mock Questions
Click on the link below to access the members area
https://starrygoldacademy.com/members
If You Don't Have Access to the Member's Area, Kindly Click on the Link Below to Chat with Admin
https://t.me/starrygoldacademy
OR
Call Starry Gold Academy on 07086810335, 08023428420, 08085378906
If you are have not join our FREE ATS Telegram classes, click here to join Now..
http://starrygoldacademy.com/members/ican-telegram-class/
Starry Gold Academy
No 1 Tuition center with the highest exam pass rate at one sitting for professional exams in Nigeria.
Our Offline Video Tutorials:
ICAN, ATS, CITN, CIS, IFRS, JAMB, WAEC, GCE, NECO, Junior WAEC, SAGE 50, SAGE Evolution, Excel (Basic & Advance), QuickBooks, and others.
www.starrygoldacademy.com
Number 1 ICAN tuition center with highest exam pass rate at ONE SITTING.
Share this