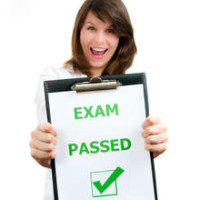 Andrew Carnegie once said – "Take away my factories, my railroads, virtually all my assets, but leave me my experience and I'll have it all back in short order."
Actually, there are only two ways to pass your ICAN exam from experience.First is to extract the "principle" by which you can make future decisions and prevent the same outcome which takes a lot time, energy.
Second, is to discover principles from others "expensive experience".
This second way is  an easier way to pass your ICAN November 2017 diet exam.
However, all the preparation before the big day, a race against the clock as you sit at the desk, and the aftermath that sometimes feels as stressful as the exam itself.
Effective technique goes beyond the exam hall.  You'll never be stress-free while preparing for your exam, but you can limit it greatly by following these tips:
Don't fuss about rewriting your notes again and again: Simply copying your notes out won't help you revise effectively.  Rewriting does help some people take in key concepts, so restrict it to writing the main point as an anchor rather than regurgitating everything.
Revise in different locations to vary your intake: It also helps you recall later, because you'll store different information at the different places.  In the exam, you could recall more by picturing the different places you were and remembering what you studied in each place. Similarly, Don't go too heavy on the memorising  some detail does not need to be in your head clearly and correctly, but much of what you study is about arguing and analysing a subject, as opposed to exact recall of specific points and quotations.
Attempt past exam papers: This advice is often dished out, but many either don't bother, or don't take it seriously enough.  When you do read through the papers, see how the questions are worded and try to grasp what is being asked of you.  Look for any recurring themes across past papers so you have an idea of the kind of topics that crop up again and again. If you can't access past questions, kindly get our comprehensive questions and answers video series.
Time yourself at writing answers to essay topics: You may be confident that you've got the knowledge, but it's no use when you know it'll take four hours to write that knowledge in a two hour exam!  Learn to gauge the time you have and get the important factors written out first.
Focus on what you don't* know: You don't need to waste time on what's already firmly planted in your head.  I'm sure you feel good going over that stuff, but it's not actual revision!
Best Regards
Tayo Stephen (ACA 11205)
PS:  If you are really serious about passing your ICAN November 2017 diet exam and you don't want to go through the "expensive experience of failing an exam", I'd strongly encourage you to get your comprehensive question and answer video series.  It's encompasses all possible questions and answers that an examiner could possibly asked in the exam.
Don't be a Spectator… Get our comprehensive Q&A video series Now by calling +2347038174484, +2349076786154, +2348023428420 or send a mail to info@starrygoldacademy.com