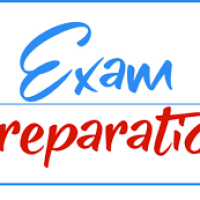 The time to repair the roof is when the sun is shining- John F. Kennedy
One of the main keys to success is early preparation. You will never go wrong when you start preparing for something early. Many students face the disappointment of failing the exams on their first try while only a handful get the satisfaction of passing all of the exams on their first try. So, how do we ensure a 100% success in the exam on our first try?
Well, the answer is to start preparing for it early! Early preparation provides us with some flexibility in our study schedule and allows room for any distraction ssuch as unpredictable events. As human beings, we are all subjected to procrastination, laziness, distraction, stress and unavoidable family commitments. Early preparation allows some room for these.
When I was studying for my ICAN Exam, I started studying 5 months before the actual exam. Everyone thought that was way too early. However, I knew that there was no harm in starting early and you could never go wrong by doing that. Being a typical student who is subject to distractions and procrastination, I allowed myself to take a one-day break from studying every week to catch up on all of my activities that are not study related. I would study from the beginning to the end of the week and then be lazy for one whole day of every week.
Hence, we will look at 3 reasons why you need to prepare early
It gives room for unpredictable event:apart from the fact that early
preparation helps you guarantee your success in the exam, it also help manage other facets of your life like family commitments, manage stress and overcome procrastination. Just like I did during my time, I was able to manage all my social, relationship and study life which hitch because I have enough time.
2.Maximize revision: A month before the exam, I called for a review of all the
important formulas. Doing the 'Adapt and practice exam questions and answers' method gave me that much needed review. I was feeling good about the exam when it finally came as I had covered every single topic on the exam thoroughly. I was prepared for whatever outcome may come on the exam day as I had tried my best and had no regrets. As a result, I passed all my papers on my first try.
It prevents exam anxiety, helps manage time and avoid the usual all-night:Cramming
causes anxiety, which lowers your ability to retain information. By creating a balanced study  plan and schedule, you will be able to study each subject in its entirety and ultimately  boost your test performance.  Almost every professional student pulls an all-night, but it is a bad idea.  Associate Professor of Psychology at St. Lawrence University once said that all-nighters impair reasoning and memory for as long as four days. Sometimes,  student that do all night tend to fall seriously ill after the end of the exam.
To your Success
Tayo Stephen
PS: The fundamental key to success is definitely early preparation. It gives you enough time to cover your bases for the exam properly and boosts your confidence before the exam. Hence, it is highly recommended that you get your material (if you have not bought your E-Class Video material, Please do that now either by calling 08023428420, 09076786154, 07038174484 or send an email to (info@starrygoldacademy.com)  especially if you did not write the last diet exam due to circumstances either within or outside your control. So start studying Now. You can never go wrong when you start preparations early and "don't forget that doing the same thing and expecting a different result is the highest form of insanity"… Jack Canfield